Semrush is SEO tool. This tool helps you to analyze data for Google Ranking. There are lots of Paid SEO tools in the market like Ahref and Buzzsumo. In this article we will share some strategies to rank with Semrush. But we have a question that, Why SEMrush is the best SEO tool? Don't worry we are here to tell you. Why you should invest in SEMrush? First of all, we want to ask you a question.
What is the most important thing to rank on Google?
The answer is best laser-guided data regarding your keyword. Data like Search Volume, Keyword difficulty, SEO difficulty, CPC, and much more. Similarly, you need the competitor's data to beat them for higher ranking.
Before writing a post. you have to analyze competitor's data for sure. After doing research you will optimize your post 10 times better to get search ranking.
What Is SEMrush?
SEMrush is a popular SEO tool that is specialized in keyword research, competitor analysis, and Google Ad campaign optimization. Also it is used to analyze competitor's data.
How To Use Semrush To Rank Up
You can use SEMrush to rank on Google because of extraordinary data. SEMrush show every little information about your competitor.
This tool is very efficient than other SEO tools. Ahref also does not have data like SEMrush. It shows the real quantity of Backlinks.
It Gets a Better Understanding of Your Competitors
Let's face it, there are millions of blogs and many are probably very much like your own. Because of this, you should pay to know your competition and to see why they are getting success while you may continue to struggle for traffic to your site. SEMRush has a feature that enables you to get a look at your competitors and the keywords that they are getting traffic from on their own blogs.
Understanding the competition and how their marketing is going will allow you to become more of a success in the long run. If a competitor is getting traffic for keywords that are relevant to your blog, why don't you target that traffic too?
Analyze Your Competitors Data
For example a site that targets similar readers to me is Pro blogger so lets have a look at their traffic.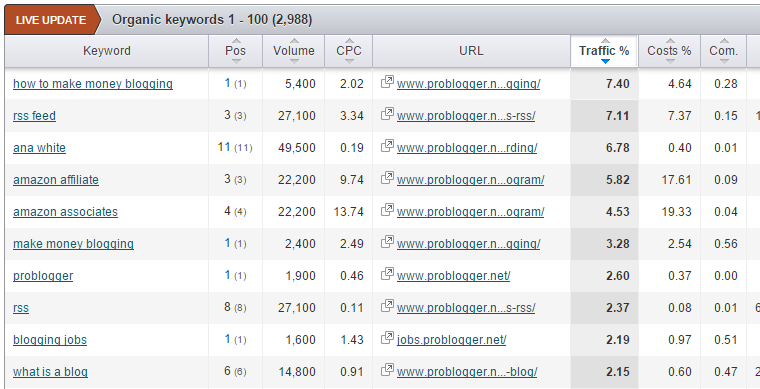 We will explain what these headings means.
Keywords: The top keywords that Problogger is ranking for.
Position: Where they are ranked for these keywords (the number in brackets is their ranking).
Volume: The estimated monthly traffic that is generated from these keywords
CPC: The cost of a click if someone advertising based on this keyword (in US Dollars).
URL: The web page generating the traffic.
Traffic: The average percentage of all traffic the website is getting from this keyword.
Find New Keyword Opportunities
There are website owners paying a lot of money for traffic, through networks such as Google AdWords, while you are driving your own traffic for free. AdWords can be quite expensive, so if you are able to find these companies you can make money by suggesting that they put their display advertisements on your site directly or even join their affiliate program.
SEMRush makes this easy. It looks at all the keywords you are ranking for and then identifies companies that are paying for advertising based on these keywords and displays them in a chart. Isn't Interesting?
Keep Track On Your Content And Existing Ranking
Another key feature offered by SEMRush is that you can easily keep track of your current and past ranking reports. You get to see different trends happening across all competitors of your blog. Many bloggers who aren't using SEMRush may not really remember which keywords were a true success in terms of their organic traffic.
So, we highly recommend once that you should use Semrush.
Happy Blogging!