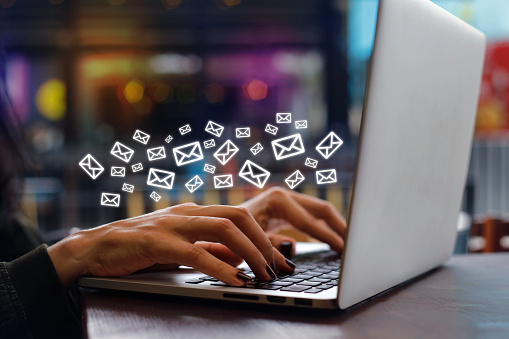 What Is Email Marketing?
Email Marketing is a platform where you can promote your business by sending emails to the people. Email Marketing has a higher conversion rate than any other digital marketing platform. It helps you boost conversions and revenue by providing subscribers and customers.
You can use email marketing for your business. You can sales your digital product or services through emails. There are almost 4.5 billion email users all over the world. It has a huge audience and extraordinary engagement. Each person checks the email box at least once a day.
But you cannot generate leads by sending emails randomly trust us that will not gonna work because there are lots of things come under email marketing which we will be sharing in this article.
As a beginner, you should start collecting emails relevant to your business. Example:- If you have a business of gardening related products. And you are sending emails to the person who is not interested in gardening. It will not because you are sending a person who is not interested in gardening. So how will you get a targeted email list relevant to your Niche? Read this complete article you will get everything for free.
How to Build Your Email List As A Beginner
You are Lucky that we are sharing this amazing tool with you. People struggle while collecting emails. This is a very complicated task, but we are making this process easy for you. So this tool is completely free and easy to use.
This is basically an Email Scrapping tool And the developer of this tool is Mr. Shane that's why this tool is named as Shane's Tool. This tool helps you to capture emails directly from the search engine and social media platforms. Also, you can scrap emails from web pages, forums, blogs, etc.
Tutorial Of Shane's Email Scraping Tool
Download Free Email Scraping Tool
Get your free Email Marketing For Free!
This tool is very useful and easy to use. All you need to do is drag this tool and drop it into your bookmark bar. And use wherever you want to use to grab emails and build your email list.
Note:- Do not buy an email list from Fiverr due to cheap price. That email list will not work, you won't get any sales. It is better to collect emails yourself.
After creating a email list you must focus on email template. Your email template must be short and attractive. Now we will be telling you that how to create an email template.
How To Create An Email Template
There are lots of paid Email Marketing tools in the market. But as a beginner, you should start sending emails with Google Mail [Gmail]. Send 60-100 emails a day manually in beginning.
You can use these features of Gmail to create professional template.
Here you can set the density of your email template
Here you can set your inbox type
This is the reading pane
you have to create your own template. And send emails using your email list. you should engage with your audience.
You can use Microsoft Word to create email templates. This is another free and best software to create email templates. This software can create hundreds of emails in just one click. All you need to do is create an email template and create fields ( Name, Address, Mobile Number, etc) that's it. It will generate emails for you.
How To Send Emails For Free
Use Google's free platform Gmail. You can send up to 500 emails at one time. You should send emails manually as a beginner. Paid Email Marketing tools provide ready-made professional email templates and it also provides email automation.
But don't worry we will be telling you how to use paid email marketing in the next article till then use these tips that start email marketing.